Yesterday, I had one of the most awesome days of my life. It would rate it right below the category comprising "Getting married to @blauerpunto" and "Getting permanent residency in New Zealand" and on a very similar level with stuff such as "Flying in a small airplane for the first time" and "Going solo in a small airplane for the first time".
So – what happened? Let me briefly introduce you to the events that lead into yesterday's trip to Auckland with and to Air New Zealand. As you all know, I'm flying quite a bit and that pretty much exclusively (well, at least to the destinations they offer) on Air New Zealand. Among being actually a really nice and friendly airline, their marketing and communications team is absolutely on top of their game and is leveraging all sorts of online and social media services. Among those is a twitter account named @airpointsfairy. She wears a cute dress, lives in a beautiful fairy land and fulfils wishes of members of Air NZ's frequent flyer program Airpoints.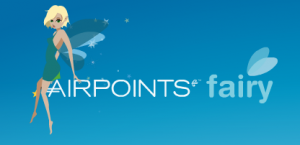 Normally members wish for an access pass for a lounge, a top up of their Airpoints$ to being able to spend them on a particular flight reward an similar thing. But before Xmas last year, the Airpointsfairy was doing a "12 days of Xmas"-themed giveaway of larger gifts. One Saturday morning, Diane woke me up saying the Airpointsfairy was giving away 2 simulator rides in Air NZ's 777-200 simulator in Auckland. So Diane thought she actually had a good reason to wish that I got one because due to our wonderful Wellington weather it was clear that I wasn't going to go flying in a Cessna 172 on that day (as originally planned). To fast-forward the story – I won it. Including a trip to Auckland with @blauerpunto and including a tour of Air NZ's Engineering base in Auckland and Hangar 9 (where they secretly developed the new seats and cabins for the 777-300 and the 787 Dreamliner) in the city.
Diane already posted about the overall experience of the trip (which was just awesome) last night (make sure you scroll further down for English). So, I won't go into all those details again, but the next few posts will be for the aviation geeks among you – more coming tonight! Just one thing in advance: Flying a jet in a simulator is freakin' awesome. It feels quite real and flying a real jet must be even more awesome. Anyone wants to pay for my training? 🙂