This is the second post about my awesome day on Monday. After @blauerpunto and I arrived in Auckland, Mark Farley from Air NZ picked us up at the air bridge. Mark is a Flight Service Manager with Air New Zealand but also does a lot of work on the ground. One of his projects is crew management, training and planning for a project Air NZ runs together with Hawaiian Airlines (more on that further down).
We went over to the Engineering Base in Auckland which is pretty much an operation that works around the clock. We got a temporary Aviation Security ID (in form of a sticker) and met Ian Parkes, Communications Manager for Air NZ Tech Ops who gave us a tour through the different workshops and a few maintenance hangars.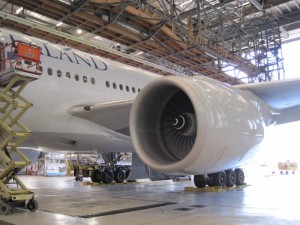 The engineering crews at the base are not just taking care of Air NZ's own planes but also contract out their services to airline partners and in some cases direct competitors. The project with Hawaiian Airlines I mentioned above for instance comprises Air NZ Engineering taking over an Hawaiian Airlines Boeing 767 plane that flies into Sydney and comes to Auckland for maintenance. After the maintenance work is done, an Air New Zealand crew takes control and ferries the plane back to Hawaii on an NZ flight number (not as a codeshare flight number). Customers might therefore get a bit of an unusual experience traveling with Air NZ pilots and cabin crew on Hawaiian metal. The cabin crew needs to be particularly trained and licensed to work on such a plane and that requires alterations to normal crew scheduling etc.
When we walked through the maintenance hangars there were an A320, a Hawaiian B767 and an AirNZ 777 around. The amount of people working on such a plane at the same time (depending on the type of maintenance) is enormous. Logistically there is also a tremendous pile of paperwork to deal with as work instructions, defects and the proper action have to be documented, done, signed-off and quality controlled. Ian said that they tried to experiment with introducing PDAs for those processes but that a paper-driven documentation with humans actually signing documents still seems to be the best option in such an environment.
In the 777 hangar I stood under ZK-OKC, the one currently being on maintenance. It's massive. That's already keeping in mind that other planes such as the B747 or the A380 are even larger – but it's still massive. Actually the A380 is literally a monster against the "tiny" 777. There are quite a few interesting details to look at when you're close to such a plane. The picture below shows one of the Rolls-Royce engines. It's probably hard to see, but there's a little rubber cone on top of the centre of the turbine. That's being put in there to avoid icing – very clever engineering from Rolls Royce's team according to Ian. An equivalent engine model from a US manufacturer just has a power-consuming heating plate in there.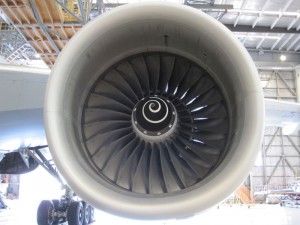 It's quite amazing to learn about the amount of stuff Air NZ can take care of themselves when it comes to repairing parts or crafting new parts. Diane pretty much fell in love with the fact that and how they create the nose cones for the planes. In the avionics lab Air NZ has setup a joint venture with one of the vendors of a lot of avionic devices and parts to again provide services for a lot of other airlines as well. There's a quite amazing huge $6 million computer system in there that comes with a wardrobe-size section of interface bays where all sorts of devices from a variety of planes can be plugged in to simulate and replay faults.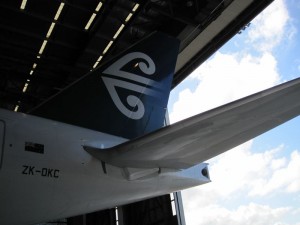 From a business point of view, Air NZ's Tech Ops is highly profitable. Because Air NZ is a rather small airline (and some maintenance for domestic planes is done in Christchurch and/or in the engineering bases of the smaller subsidies like Air Nelson or Eagle) the Auckland base works for pretty much all other airlines flying into Auckland international. In a lot of cases that might just mean smaller maintenance jobs and checks before a plane is returning back overseas to wherever it came from, but in some instances as above it could mean that some airlines also get major works done in Auckland.
Very awesome start of the day, but stay tuned – way more to come! 🙂