A picture of you and your friends… Ha, tricky one as I needed to actually dig through other people's iPhoto libraries to find pictures on which I am shown myself. Even more difficult if you have multiple circles of friends on different continents. So – I decided to go with three photos instead of one. But even those three by far don't show all the people I'd like to be in here (another selection criteria was that I look somewhat reasonable on the photo – sorry if you're not showing up in one of them :))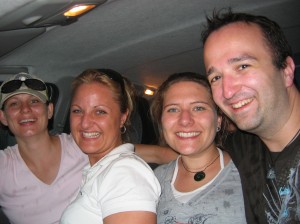 This photo was taken in the European summer of 2008 – from left to right: Katja, Corinna, Diane and I. We've been on a geocaching tour and visited a theme park near Cologne for most of the day (with Katja's kids and Silke – the second of the three famous Koppai-sisters :-)). I went to school with Katja and Corinna and they're probably my longest friends ever!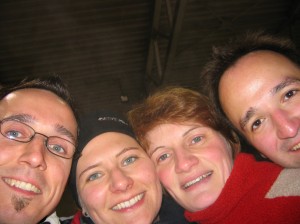 This one is also from Germany – actually taken in the same year during the same Europe trip. You might wonder why it looks as if it was winter – the reason is that for us it was winter on the day. We went skiing and snowboarding in an indoor snow arena in Neuss, Germany. From left to right: Frank, Diane, Britta and I. I went to university with Britta and Frank – they both did a teaching degree in Maths and PE and we had lots of fun with sitting in Maths lectures together :-). On that particular day, Diane was on skis for the first time ever and Frank (who had recently finished a ski teaching qualification) used Diane as one of his first "victims". In the meantime Britta and I had lots of fun doing some proper actual snow boarding. Yay.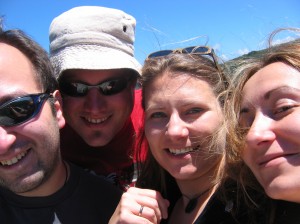 Number three shows myself, Ben, Diane and JJ on a trip to Cape Paliser (the most southern point of New Zealand's North Island). Beautiful day and awesome views and on the way back we had "fush'n'chups" in the one and only eatery in Ngawi. I'm pretty sure there were some geocaches along the way and a spending spree on board games in Featherston's All Aboard game store :).