A picture of somewhere I've been to. Easy as – you've learnt in day 1 that I travel a lot. So – let's see….digging through iPhoto photos…here we go: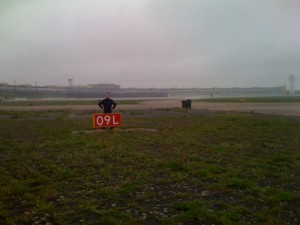 This is me at the old Berlin-Tempelhof airport (runway 09 left). It's Berlin's inner-city airport and it was heavily used during the Berlin airlift after WW II. It then became a one of two airports in West-Berlin and over time it was less and less used. It's finally been shut down 1 or  2 years ago and is now a being converted to a huge area for concerts, parties, weekend activity etc. In the background you can see the terminal buildings. They are massive, built in typical post-1930s bold Nazi-architecture.
The picture is taken in May or June 2010 when I was in Berlin to moderate RIA-Day (and also presented myself at Webinale 2010). The Tempelhof trip was joined by JJ and Justin, a very fun day!